UT Dell Seton has recently been approved by Texas DSHS as a COVID-19 vaccination hub. Patients can click on the button below to register for the COVID 19 vaccine.
If you have trouble setting up a password with APH, the work-around is to sign-up with your email address and simply add ".aph" on the end of your email address (i.e. your email@example.com.aph). Otherwise, please contact APH for any further assistance.
Vaccination Request Form (UT Health Austin)
Austin Public Health (APH) announced that its portal for pre-registration to receive the COVID-19 vaccine is now live. They have a limited number of doses and are focusing on vulnerable populations. Click the button to pre-register for the COVID-19 vaccine.
Updated: 1/22/21

Our clinic is currently out of the 1st dose of the COVID-19 vaccine. We do not anticipate a new shipment of the 1st dose in the near future. The State of Texas is reallocating all first doses of the COVID-19 vaccine to Austin Public Health and their mass community vaccine effort.

All those who have been vaccinated will receive their second dose as scheduled. We are committed to following the CDC and Texas DSHS prioritization guidelines.

Please understand that in the initial allocation Capital Medical Clinic only received 500 doses. We have over 20,000 high risk patients and are making every effort to get our patients vaccinated. We will continue to update our website with additional vaccine opportunities as they become available.

We respectfully ask for your patience and grace as we continue in our vaccination efforts. Please do not call the clinic, as we need to keep the lines open for patients calling with acute problems. We will notify patients as we receive additional doses.

Pre-Register with Austin Public Health
Proudly serving Austin since 1934
View our team
Read About Us
- All Capital Medical Clinic doctors are board certified
- An independent Internal Medicine clinic
- Our physicians' skills are complemented by onsite diagnostic services (including lab, x-ray, bone density, stress tests, echocardiography, and pulmonary function studies)
Introducing:
Dr. Anna Buteau

CMC is happy to welcome our new doctor!
Meet Dr. Buteau

- X-rays
- Bone density testing
- EKGs
- Urine Analysis
Testing Tent/ Lab Tent Location
CMC offers the option of having your labs drawn at our drive-by lab just outside our building.

We will also continue to perform lab testing inside of our building if that is your preference.

The following testing can only be done at our indoor lab:


Doctors Accepting New Patients
Doctor Maxwell, Doctor Buteau, and Doctor Groves
are all currently accepting new patients.
Annual Wellness Visits:
Even during the outbreak of COVID-19, preventive medicine is still important. Medicare patients can schedule their Annual Wellness Visits with a telemedicine visit.
Please call (512) 454-5171, and select option 2 to connect with a scheduler and schedule an appointment. Once scheduled, a person from our office will then call you before your appointment to complete the health risk assessment for your visit.
Coronavirus Update
Capital Medical Clinic patients can click here for clinic updates and frequently asked questions regarding COVID-19.
---
Parking Fee
There is a nominal fee for parking and we do not validate. However, there are discounts for those 55+
---
Bone Health
---
For Your Health
Additional Information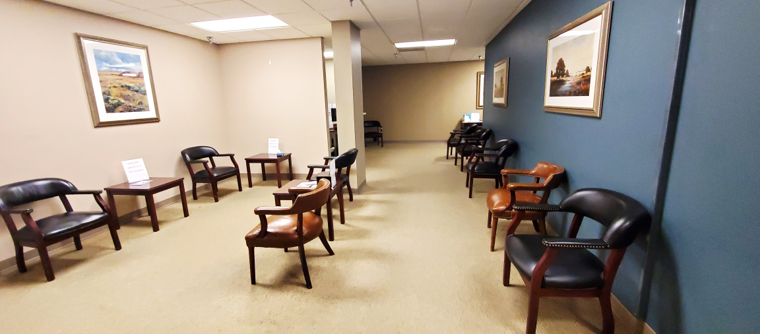 About Us
Capital Medical Clinic believes in caring for the whole person…. for a whole life
For over 80 years, Capital Medical Clinic physicians have provided quality healthcare to Austin and Central Texas families. We emphasize accurate and prompt diagnosis, maintain a strong commitment to individualized treatment, and support preventive measures to improve the quality of our patients' lives. We are proud to have established a leading program in Internal Medicine.
Our family of doctors would like to be the physicians for the adult members of your family. Please call us to let us know how we can serve you.
A Great Laboratory Team
The Physicians of Capital Medical Clinic would like to recognize the laboratory team for their outstanding performance in achieving the Laboratory Excellence Award from COLA.
Information For Our Patients
Capital Medical Clinic Resources