While the mask mandate has been lifted for the State of Texas, Capital Medical Clinic will continue to require mask wearing by all patients, employees, and physicians at our facility. This is to ensure the safety of all concerned.

We also advise everyone to continue to wear a mask in public places until the risk of the pandemic improves.
Proudly serving Austin since 1934
View our team
Read About Us
- All Capital Medical Clinic doctors are board certified
- An independent Internal Medicine clinic
- Our physicians' skills are complemented by onsite diagnostic services (including lab, x-ray, bone density, stress tests, echocardiography, and pulmonary function studies)
Medicare Physical Examination Waiver Update - 2021

Your health care is important to us. To provide the level of quality care that you have come to expect from our physicians, we require an annual physical for you to continue to be a patient at Capital Medical Clinic. The annual physical is a time for you and your physician to comprehensively cover your medical care and conditions not routinely discussed in the regular care of current medical conditions. Unfortunately, Medicare will not pay for this service, even though your doctor considers this medically necessary. Therefore, you will be responsible for payment of this service. The cost of the Annual Physical is $215.

Please note, if you discuss a new or ongoing health concern such as asthma, or a new condition discovered during your physical (such as a urinary tract infection) in the same visit and the physician provides medical treatment, such as a referral or prescription, we must bill Medicare separately for these services. In cases like these, the acute or ongoing care may generate additional out of pocket expenses, such as a deductible or co-insurance.

If you have any questions as to why Medicare does not pay for this service, please contact your insurance representative.
Doctors Accepting New Patients
Doctor Buteau and Doctor Groves
are all currently accepting new patients.
Annual Wellness Visits:
Even during the outbreak of COVID-19, preventive medicine is still important. Medicare patients can schedule their Annual Wellness Visits with a telemedicine visit.
Please call (512) 454-5171, and select option 2 to connect with a scheduler and schedule an appointment. Once scheduled, a person from our office will then call you before your appointment to complete the health risk assessment for your visit.
Coronavirus Update
Capital Medical Clinic patients can click here for clinic updates and frequently asked questions regarding COVID-19.
---
Parking Fee
There is a nominal fee for parking and we do not validate. However, there are discounts for those 55+
---
Bone Health
---
For Your Health
Additional Information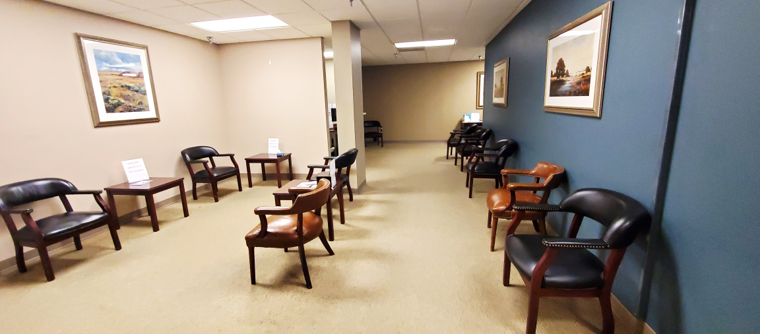 About Us
Capital Medical Clinic believes in caring for the whole person…. for a whole life
For over 80 years, Capital Medical Clinic physicians have provided quality healthcare to Austin and Central Texas families. We emphasize accurate and prompt diagnosis, maintain a strong commitment to individualized treatment, and support preventive measures to improve the quality of our patients' lives. We are proud to have established a leading program in Internal Medicine.
Our family of doctors would like to be the physicians for the adult members of your family. Please call us to let us know how we can serve you.
A Great Laboratory Team
The Physicians of Capital Medical Clinic would like to recognize the laboratory team for their outstanding performance in achieving the Laboratory Excellence Award from COLA.
Information For Our Patients
Capital Medical Clinic Resources